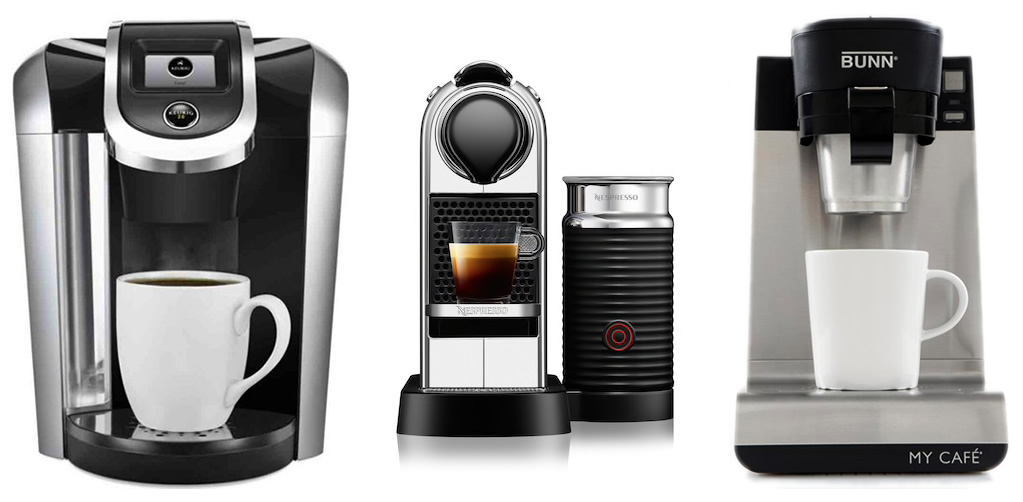 Brewing Small
When it comes to convenience few will argue that the single-serve brewer is the way to go. Popular at home and the office, these appliances have attempted to strike a balance between convenience and a quality cup of coffee. Keurig and Nespresso are the category leaders but almost every brewing manufacturer markets at least one device these days.
Pods and Capsules
The technology revolves around a single-use prepackaged pod or capsule filled with ground coffee. Fill the reservoir with water (as needed), drop in a pod or capsule of your favorite coffee, place a coffee cup and press the start button. Within a minute or so the brew cycle is complete and you're ready to go.
Where Does Craft Coffee Fit In?
By design single-serve brewers require a pod or capsule that fits the device. Using local craft roasted coffee may be possible if a user-fillable pod/capsule is available for your particular brewer. If that is important to you do your research for purchasing a machine.
Single-serve Pros and Cons
Pros
Convenience
Brewing per cup means little wasted coffee
Some offer brewing options from basic drip coffee to espresso
Some offer user-ffillable coffee dosing options
Cons
Pods and capsules can be expensive
Some require proprietary pods or capsules
Machine cleaning can be difficult
Most capsules are not recyclable (paper-based pods are biodegradable)